Chernozem
MAGDALENA CIEMIERKIEWICZ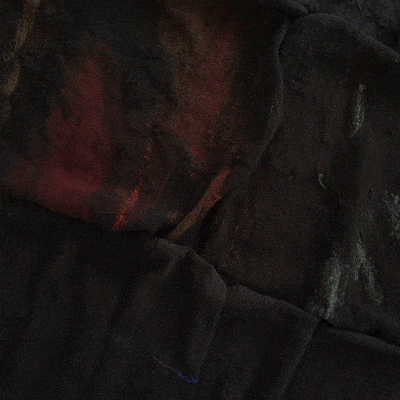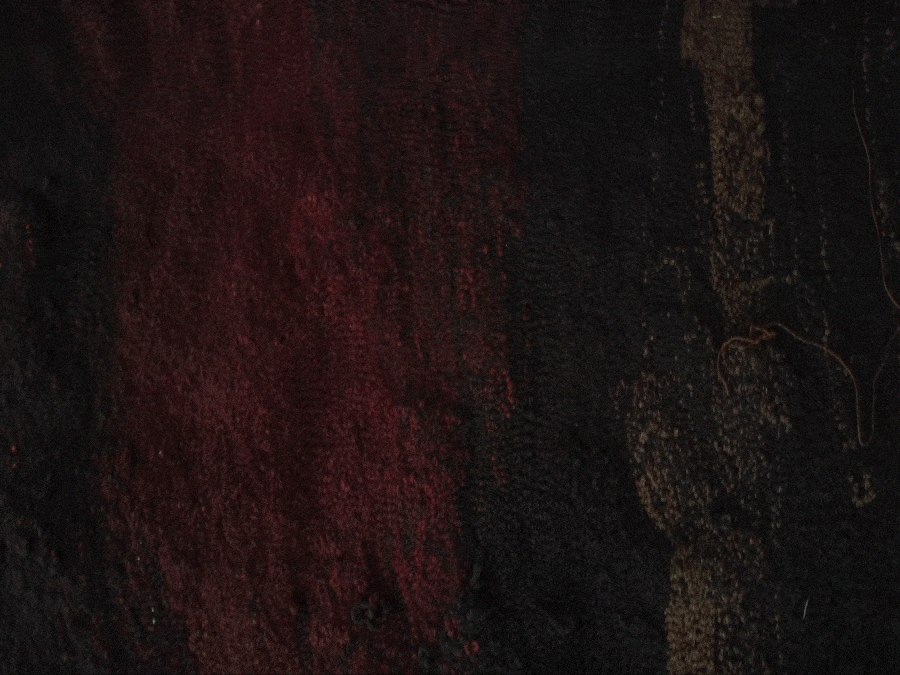 Magdalena Ciemierkiewicz's CHERNOZEM (2022), presented here in a series of GIFs, is a large-scale fabric installation comprising twelve woolen carpets. The word chernozem, meaning black earth, specifies an extremely fertile dark-colored soil type. It is found in concentration in only a few regions of the planet, primarily the North American Midwest and in the famously high-yield agricultural zone that covers most of Ukraine. The latter extends to the east into Eurasia, and to the West into the artist's home region in southeastern Poland (the Subcarpathian Voivodeship). Regional communities' historical connection to the land has been strongly influenced by the agricultural bounty associated with chernozem [Ukrainian чорнозем, translit. chornozem]. For Ukraine in particular, the richness of the land has been a valuable resource, but relationships with neighboring nations have been frequently colored by its presence—from agrarian stereotypes and slurs to overt predatory and colonial attempts to capture the agricultural potential of the region by force or coercion.
Ciemierkiewicz's work stitches together the shared experience of the peoples of the region, excavating the soil's dual character as sustainer of life and burial ground for trauma. The earth from which the artist's carpets originate is a territory of home and family. Through generational memory, however, it is also a territory of deep darkness, a material witness to a not-so-distant past that includes pogroms, mass graves, forced displacements. This history is present as a source of knowledge and understanding for the artist, as it is for many who study the region, but it is also all too frequently instrumentalized—either buried to absolve the crimes of the past or disinterred to justify crimes of the present. Although their borders dissolve in this elemental commonality, Poland and Ukraine still face tensions related to divergent interpretations and prioritizations of events witnessed by the shared expanse of chernozem. Now, as external aggression has uncovered the roots of a crucial solidarity between the two nations, history changes again. The life-giving support offered by Poland to Ukraine since the start of the invasion has become one of the most powerful rebukes of Moscow's cynical machinations. What will grow from this common bond remains to be seen, but whatever it produces will once again be witnessed and integrated into the region's chernozem.
CHERNOZEM and other works are on view until 27 January 2023 in Magdalena Ciemierkiewicz's solo exhibition Time and Loop at Galeria Biała, Lublin. The gallery is open from 12 to 6 PM Tuesday-Saturday.
Published 24 January 2023
Magdalena Ciemierkiewicz was born in 1992 in Rzeszow, Poland. She lives and works in Warsaw. In 2016 she graduated from the Academy of Fine Arts in Warsaw at the Faculty of Painting. She is particularly interested in exploring the memory culture and micro-history of southeastern Poland, where she is from. She uses various media, including fabric, collage, video and sound.