Kyiv Angels
The leaders of the volunteer organization Kyiv Angels represent the creative scene of Kyiv—musicians Markiian Matsiiovskyi and Oleh Patselya and photographer Markiian Zadumlyvyi. When the full-scale war started, the three of them, with the help of other volunteers, started gathering donations to provide military equipment and medical supplies to the Ukrainian army, as well as humanitarian aid to the communities suffering from the Russian invasion. For this interview, we talked to Markiian Matsiiovskyi.
Supplies during a trip to Vyshhorod, Kyiv oblast. Courtesy of Kyiv Angels.

A liberated village in Kyiv oblast, April 2022. Courtesy of Kyiv Angels.

A liberated village in Kyiv oblast, April 2022. Courtesy of Kyiv Angels.
Can you tell us about how the initiative started / how you became involved?
On the first day of the full-scale invasion, my friends and I were hiding in a bomb shelter, and another friend of mine joined the Territorial Defense. On the second day, we felt the urge to start doing something, so we collected some money (around 3,000 hryvnias, or $80 USD) and bought some products for the Territorial Defense. Then I made a post on Instagram saying that we are now raising money to continue with this sort of help. During the eight months of the full-scale invasion, we have visited over 50 towns and villages, and delivered necessary aid to over 20,000 people.
How did Kyiv Angels change over time and what were the challenges it faced?
When we legally registered Kyiv Angels as a fund, it became easier to work with artists and entrepreneurs who wanted to donate. But as the war has continued, we are receiving fewer donations, especially from foreigners, so now we are taking the initiative into our own hands and looking for patrons ourselves. Of course, when there is a direct and urgent need, for example, such and such equipment for the soldiers, then people consolidate. However, we aspire to move away from this format of work and instead hold charity auctions, exhibitions, and other events in order to simultaneously promote Ukrainian culture. In this way, we will not simply be asking, but also giving something in return. We already had a few projects of this kind. One of them was a collaboration with graffiti artist Obies who created nine paintings that portrayed Archangel Michael, a symbol of the city of Kyiv and the traditional guardian of the Zaporizhzhian Sich, that we sold at the charity auction. Among other events—a mini opening of Pat Guzik's Mini Studio in Kraków, the Frankie Shop fundraiser with French artist Thomas Lélu, a charitable lottery in collaboration with Sort Company Shop in Kyiv, etc.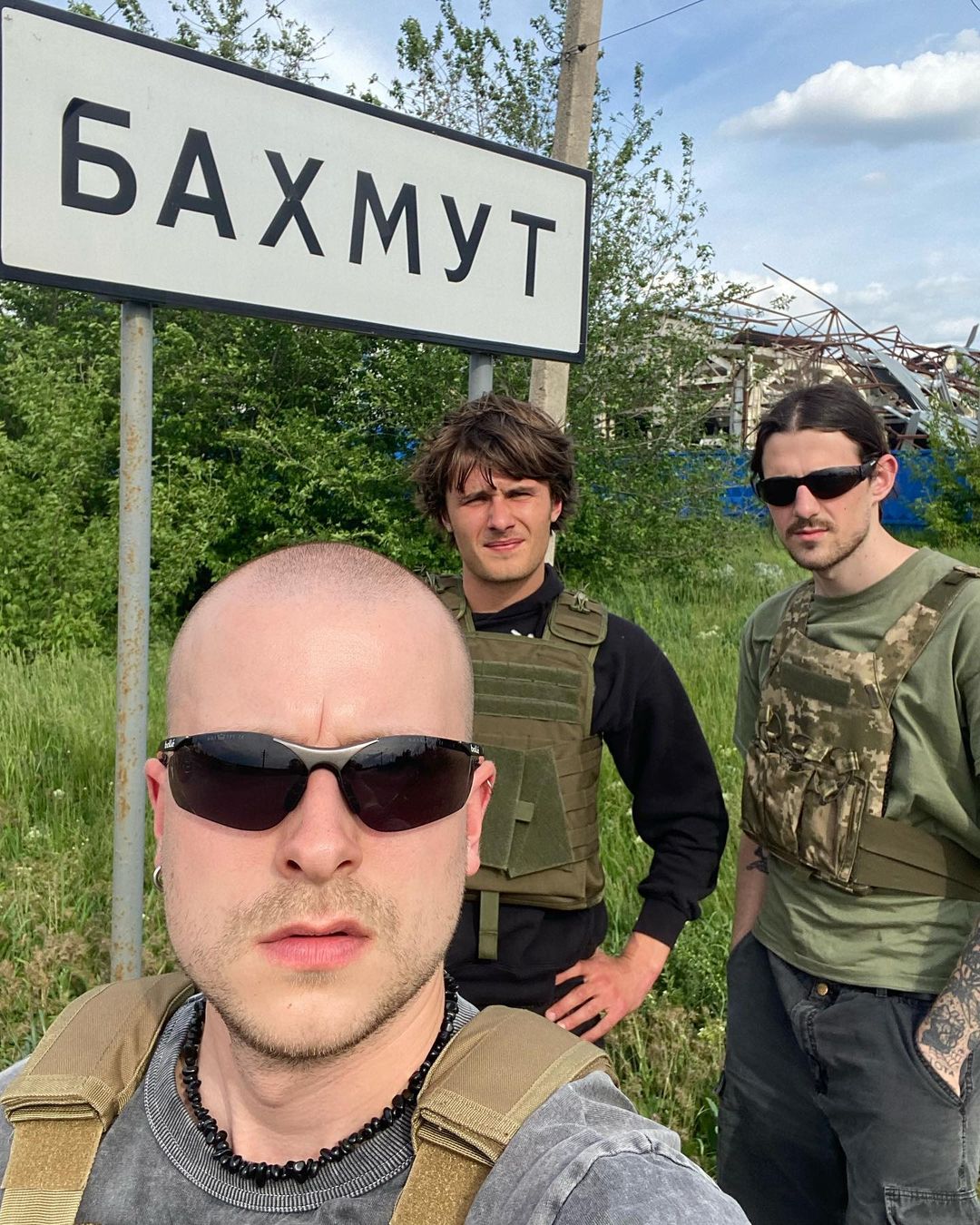 The Kyiv Angels team in front of a road sign for Bakhmut during their trip to Donetsk oblast. Courtesy of Kyiv Angels.
In the spring, especially after the liberation of the Kyiv region, we traveled a lot, almost every three days, because we were receiving a lot of donations—every month we were spending around $100,000 USD. Now we are less involved in humanitarian aid because products are very expensive. If we do help with food, we try to get it from charity funds. The same is true for medicine, a stock of which, for example, was recently given to us by Henkel free of charge—we then passed these medicines to the Hospitaliers medical battalion and to the 47th Airborne Assault Regiment. For now, we mainly collect donations for military equipment, something that charity funds do not provide, so we're only able to purchase all the cars, drones, etc, ourselves. For now, military goods are a priority for us: with no military aid, there will be no victory.
What was the most memorable trip?
At the end of August, we went to Pisky in Pokrovsk district, a village very close to Donetsk. At that time, Pisky was all over the news since it was on the frontline, so I decided to gather a team and go there. I made a post on Instagram that I was looking for military personnel who needed aid, and someone put us in contact with the 56th Marine Brigade. Then we collected $11,000 USD in aid. I remember from that trip how hospitably the soldiers greeted us and how charismatic their captain was—he looked and spoke like a character from a movie, with a prominent mustache and a beret, and he was quite young, even younger than me. And as we were having a conversation over dinner, somewhere 500 meters away, cluster shells began to rattle. Later we found out that the house where we had stayed the night before was destroyed by that attack.
Pisky, Donetsk region. Courtesy of Kyiv Angels.

Pisky, Donetsk region. Courtesy of Kyiv Angels.
You have also helped the civilians in the liberated territories. Can you tell us about one of these trips?
At the beginning of April, when the Kyiv region had just been recaptured, we went to Brovary district. No one was even allowed to go there yet because the area was being demined, but we broke through because we understood that help was needed as soon as possible. After that we visited the villages of Mokrets, Zahorychi, and Bervytsia carrying enough aid for approximately 1,700 people—it was a big trip with several minibuses and four volunteers. I think it was during that trip that for the first time I couldn't hold back my tears. We kept meeting so many older people who were telling us how they had lived through the war as children and had never expected to live through one again. One family said that when the tanks stopped by their house, their dog started barking, and the troops shot it. Then they began banging on the door, but the couple was hiding in the basement, so the tanks just fired into their garage and moved on to the next house. It was impossible to comprehend all the things we heard during that trip.
Where would you be right now if the full-scale invasion had never happened?
As a music video director, I was planning to work on several projects, but they were put on hold because of the war. However, I'm still creating music with my label HypnoHouse and soon I'm going on a tour around Europe.
Follow Kyiv Angels on Instagram. Support Kyiv Angels at this link. 
Published 2 December 2022