KYIV BIENNIAL: Emergency Support Initiative

Emergency Support Initiative (ESI) is a support program that Kyiv Biennial has been developing since March 2022 for Ukrainian artists, cultural workers and artistic projects, reflecting on the current situation in Ukraine. Normally an international forum for art, knowledge, and politics that integrates exhibitions and discussion platforms, Kyiv Biennial has operated since 2015, with 4 editions to date held in the Ukrainian capital. To find out more about ESI's activities, follow the Kyiv Biennial's page on Instagram. We talked to Serge Klymko, founder of ESI and one of the organizers of Kyiv Biennial.
Can you tell us about how the initiative started / how you became involved?
From the first days of the war, partners and artists with whom we worked within the framework of the Biennial began to turn to us with the question: how can we help? And these appeals pushed me to the idea that we can not only be the recipient of help, but also help ourselves. At first, we just did it through my card and PayPal, and later they decided to act through the Visual Culture Research Center. We work with private donors and foreign foundations that provide substantial assistance in the form of grants and donations. Among foreign institutions that supported us are the European Cultural Foundation, the Andy Warhol Foundation, the Akademie der Bildenden Künste Wien, the Sigrid Rausing Trust and many others.
Some European art initiatives also decided to raise money for our support—an auction was organized in Cologne, an online auction in the Netherlands, an auction at the Nobel Center in Oslo, and a number of other solidarity actions.
Continuing the work of ESI, we are striving to preserve the space of creativity and cultural activity in Ukraine—despite the brutal invasion and the growing economic crisis. Our response to these threats is enthusiasm and creativity, strengthening solidarity and fostering love for culture and art.
What results has ESI achieved over these months?
ESI works as a fund that helps artists, workers in the field of contemporary art and culture, and workers of state-owned cultural institutions who lost their jobs or were furloughed due to the significant cuts by the Ministry of Culture. We support such artist residencies as Asortymentna Kimnata (Ivano-Frankivsk), Khata-Maysternia (Babyn, Ivano-Frankivsk region) and Sorry, no rooms available (Uzhhorod) and others in Ukraine that have expanded their activities to host internally displaced artists and provide them with space to continue their practice. In cooperation with the Museum Crisis Center, ESI covered the urgent needs of museum workers in the combat zone and in the occupied territories in the Donetsk, Zaporizhzhia, Luhansk, Chernihiv and Kherson regions, where people do not have help from the state, and also provided them with other types of support. Since March, we have supported more than 700 people with more than 100,000 Euro in total.
Currently, we have an open form through which artists and cultural workers who remain in Ukraine and are in need can apply for help.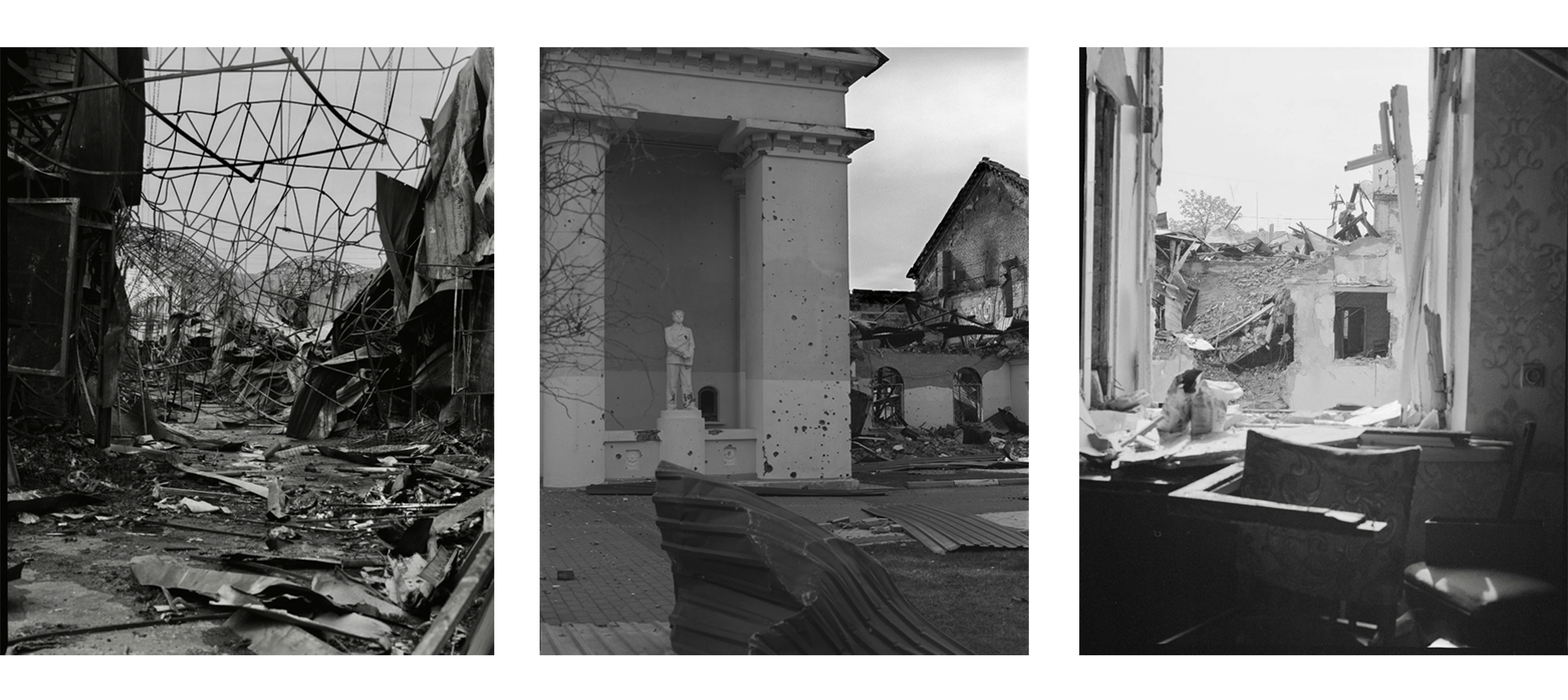 From the photo series Radiations of War by Yana Kononova. The project, in which the photographer depicts evidence of war crimes and destroyed civilian infrastructure, was supported by ESI in spring of 2022. Courtesy of Yana Kononova.
What are projects ESI has recently worked on or supported?
In Summer, we supported an exhibition organized by commercialpublicart and dedicated to forms of experiencing war and the theme of dehumanization, that is, the psychological process of depriving human beings of their human attributes. It featured a spontaneous graffiti session and the exhibition of artworks by Roman Mykhailov and Alisa Bondarenko, Obies, commercialpublicart, Twintwin_tattoo, Onek, Alisa Shampanska, Sestry Feldman, and Taya Kabaeva.
Recently we have supported two exhibitions—one in Lviv by Oleg Suslenko and another in Uzhgorod by Nikita Kadan, which just opened.
In June we started Solidarity Screenings, a video program which provides an intimate portrayal of people caught amidst the war, occupation and forced migration. Made to preserve and develop evidence, reflections and feelings, all of the video works have been created by visual artists based in Ukraine after the start of the Russian invasion on February 24. The program has already been shown in Amsterdam, Prague, Riga and Malmo and is planned in other European cities.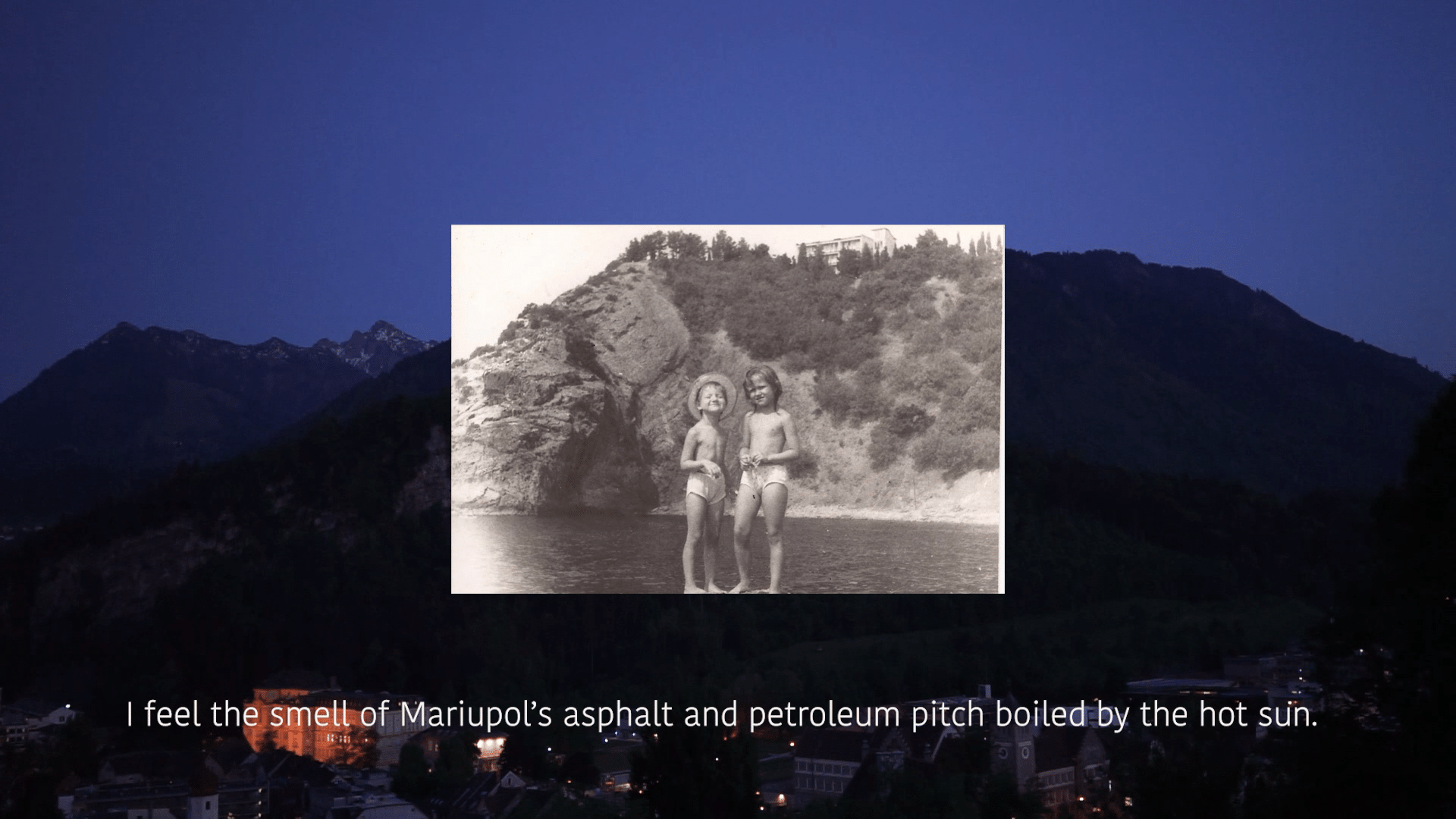 Film still from Remember the smell of Mariupol (2022) by Zoya Laktionova, a film included in Solidarity Screenings. Courtesy of Zoya Laktionova.
Another project supported by ESI in spring and summer was Unbreakable Ukrainians – a series of interviews that show how the war in Ukraine has changed the lives and destinies of people, what they feel and how they relate to it.
Right now, there are other video, theater and contemporary academic music projects that are in the implementation stage.
Can you share a moment from your work that inspired you?
There was a continuous moment at the beginning of the war, when people thousands of kilometers from here remembered, wrote, thought about the Ukrainian community and helped it, expressing solidarity in words and deeds. A lot of things changed from that moment, but this feeling of solidarity stayed and helped me to go on.
What would you be doing right now if the war had never happened?
The last Kyiv Biennial happened last year, so the war didn't disrupt the preparation of this particular project. Apart from that, I did have to pause my participation as a curator in a number of international projects to work on ESI here, in Ukraine.
Support ESI here.
Published 3 November 2022