Out Loud / Вголос / Na głos
CULTURAL GEOGRAPHIES & GALERIA LABIRYNT

SONIAKH digest was invited by the curators of the exhibition Out Loud / Вголос / Na głos (open 23.9.2022–30.10.2022) at Galeria Labirynt in Lublin, PL, to collaborate by integrating texts from SONIAKH contributors into the exhibition space. The result was a series of SONIAKH print posters featuring pull quotes from six SONIAKH articles on one side and the complete texts on the other.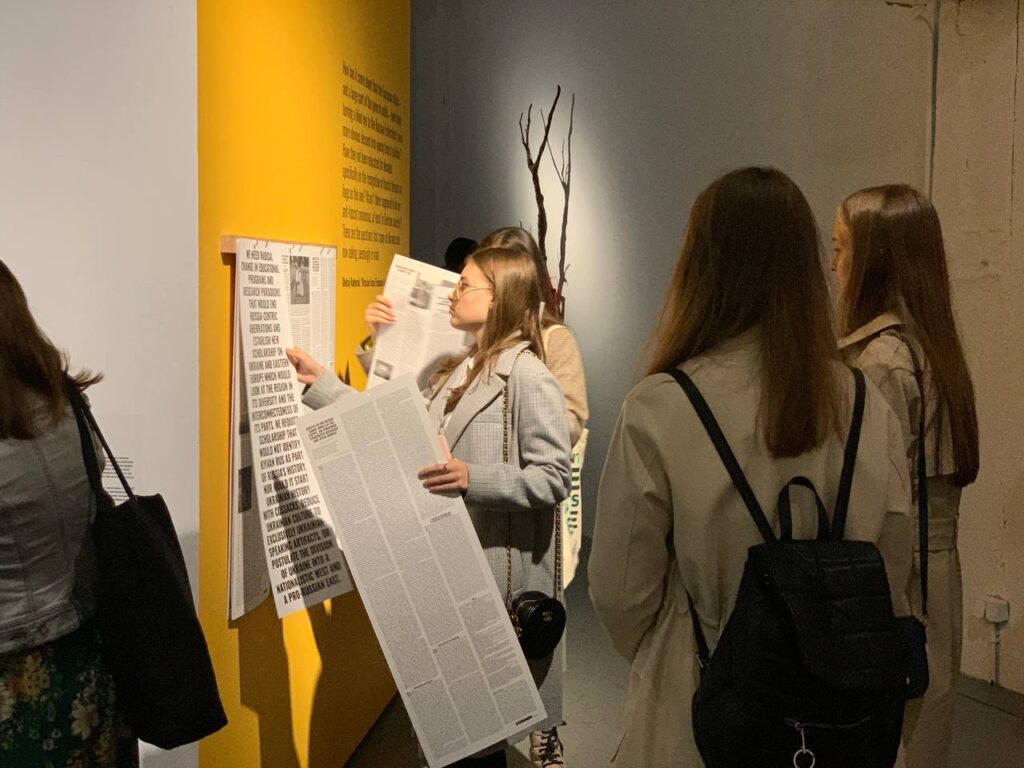 Featured SONIAKH articles:
Yevheniia Butsykina: Motherhood in War: Bodily Experience
Volodymyr Kulyk: Discussions with Western Colleagues Over the Rumblings of the War
Michał Murawski: From Culture Tree to Culture Z: War, Empire and Putin-Era Urbanism
Oleksiy Radynski: Russian Fossil Fascism Is Europe's Fault [download: SONIAKH 001, SONIAKH 002]
Natalia Sielewicz: Ghosts in a blockchain, wires in the steppe. On cyberwar, cybernetic behavior and open-source
with an additional contribution by SONIAKH curator Milena Khomchenko: Let Me Reinstate My Agency: Russian Language Manipulations in Ukraine
Project concept: Clemens Poole, Valerie Karpan and Marina Marinichenko
Poster design: Clemens Poole
Out Loud / Вголос / Na głos exhibition
Artists: Yehor Antsyhin, Kateryna Berlova, Kateryna Buchatska, Nadiia Chervinska, Commercial public art, Daniil Galkin, Lucy Ivanova, Daria Kozlova and Arwina, Ksi Prostir (Iva Naidenko, Nadiia Koval), Maria Matiashova, Lada Nakonechna, Daniil Shumikhin, Vitalii Shupliak, Dima Tolkachov, Vova Vorotniov, Kamyla Yanar
Curatorial team: Krystian Kamiński, Valerie Karpan, Marina Marinichenko, Agata Sztorc-Gromaszek
Realisation: Monika Rejman
Branding: Emilia Lipa
Assembling: Karol Jakóbczyk, Jarosław Mitura, Anna Śmierzchalska
Partners: NGO Cultural Geographies (Ukraine), SONIAKH digest (Poland)
The exhibition is organised within the "Old New Gaze" project financed by the European Cultural Foundation.
On view 23 September to 30 October 2022