SONIAKH digest: platform launch
SONIAKH digest & SDK SŁONECZNIK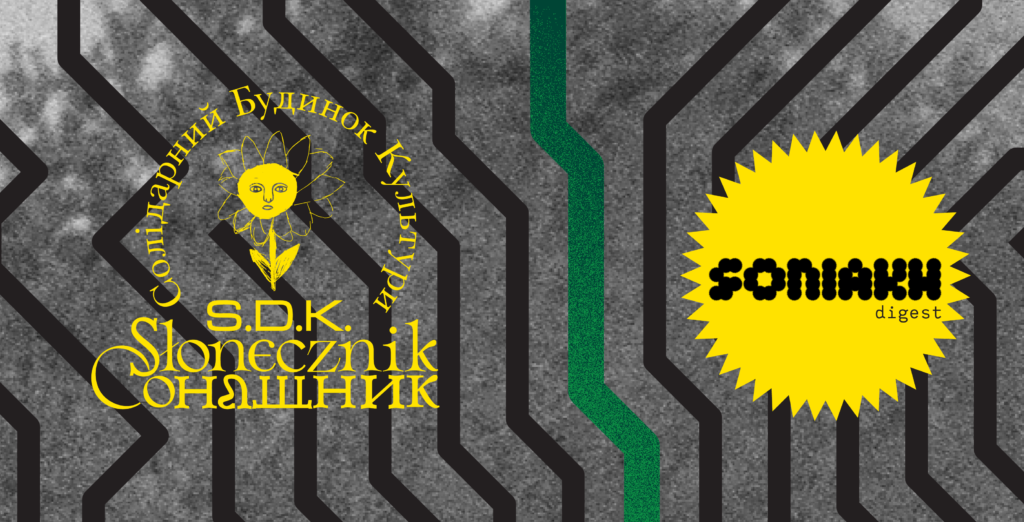 18:00-22:00 on Tuesday, October 11, 2022
SDK Słonecznik
Pańska 3 street, Warsaw
On October 11, 2022, the Museum of Modern Art in Warsaw and SCC Sunflower [SDK Słonecznik] will host an event dedicated to the launch of SONIAKH digest, an online publication amplifying voices and visions from Ukraine and those of Ukraine's allies. In addition to the publication itself, SONIAKH digest collective is actively involved in activist work, curating the exhibitions, organizing and participating in international symposiums and panels.
SONIAKH [eng: SUNFLOWER] digest was set up by an international collective of artists, activists, cultural workers and scholars in response to Russia's war of aggression against Ukraine and its worldwide propaganda machine. The online publication and affiliated think tank strongly support Ukrainian statehood and the right of Ukrainians to defend themselves, seeking to counter misinformation, disinformation, negative stereotypes and propaganda that obfuscate, relativize and undermine the efforts of Ukrainians to oppose the Russian colonial invasion.
SONIAKH digest reincarnates the archaic journalistic tradition of the "digest" as an outlet where information, analysis and artistic production are collated, summarized, and amplified for a general audience. It addresses a new age, in which old, Western-centric paradigms have to be abandoned, unilateral explanations do not work, and grand theories fail to explain the mutating realities on the ground. In this time, new antifascist fronts emerge against multiplying imperialist threats, ushering in the need to defend democracy.
SONIAKH digest is affiliated with the Museum of Modern Art in Warsaw and the Office for Postartistic Services and supported by grants from the European Cultural Foundation and Sigrid Rausing Trust.