SDK Słonecznik
SDK Słonecznik [eng: Sunflower Solidarity Community Center (SCC)] is a cultural center initiated by the Museum of Modern Art in Warsaw that provides humanitarian help for war refugees from Ukraine and other countries. The museum headquarters at Pańska 3 have been transformed into a safe space for refugees, providing meals and beverages, psychological support, workshops for children and adults. We collect funds for purchasing food and hygiene products, ordering meals prepared by two Warsaw collectives employing migrants and refugees: Kuchnia Konfliktu (Conflict Kitchen) and Słuszna Strawa (Right Food). Donations can be transferred to the bank account of the Society of Friends of the Museum of Modern Art in Warsaw. We discuss the initiative with co-organizer Jakub Depczyński.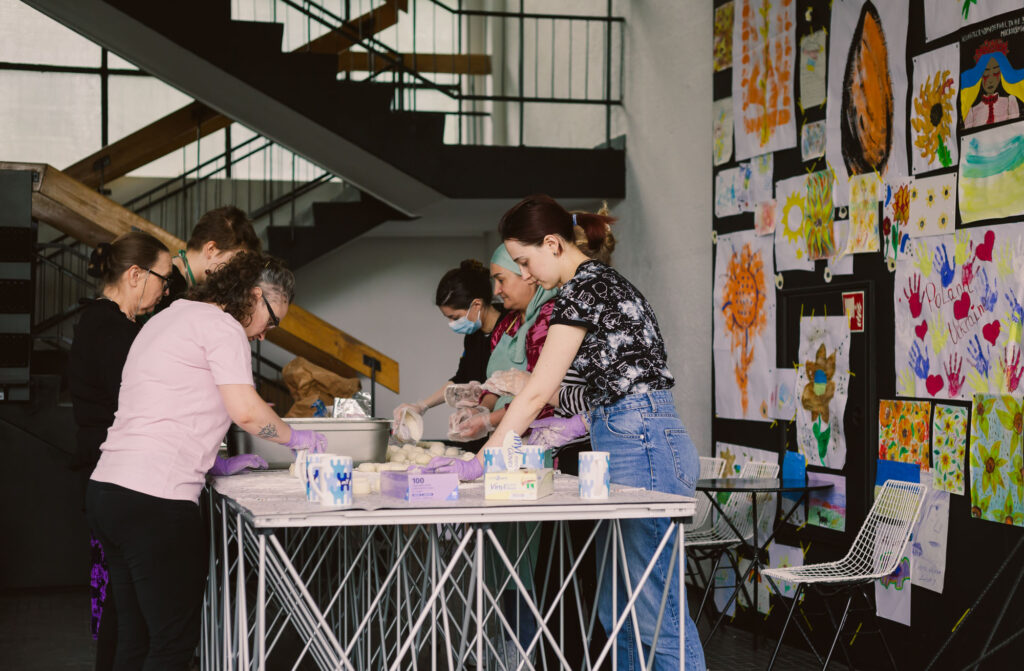 Can you tell us about how the initiative started / how you became involved?
The beginnings of the "Sunflower" were so intense and tense that we barely remember anything from those early weeks. Nowadays, we think that it all started two days after Russia launched its full-scale invasion of Ukraine. On Saturday, February 26th a call was circulated among artists, activists, cultural workers and other friends to meet at the office space of the Museum of Modern Art in Warsaw to paint banners for the evening demonstration in front of the Russian embassy in Warsaw. Some of the people who came there started meeting in the same place every day to help incoming refugees, prepare sandwiches and cook meals, collect medical aid, find accommodation for those in need, raise funds to support the war effort and also just be together in this horrible moment. They were the first seeds, and still are the pillars of the "Sunflower" community: Ukrainian artists, cultural workers and activists Yulia Krivich, Maria Beburia and Taras Gembik who already worked with the Museum before and initiated the whole thing; Polish artists and activists Kaja Kusztra and Weronika Wysocka; Orina Krajewska and Bądź Foundation who immediately started collecting medical aid; the staff of the Museum: Maria Nowakowska, Natalia Sielewicz, Bogna Stefańska, Sebastian Cichocki and Kuba Depczyński. Currently, the "Sunflower" functions more as a cultural center, but those early days of immediate, direct aid are what really shaped the whole initiative.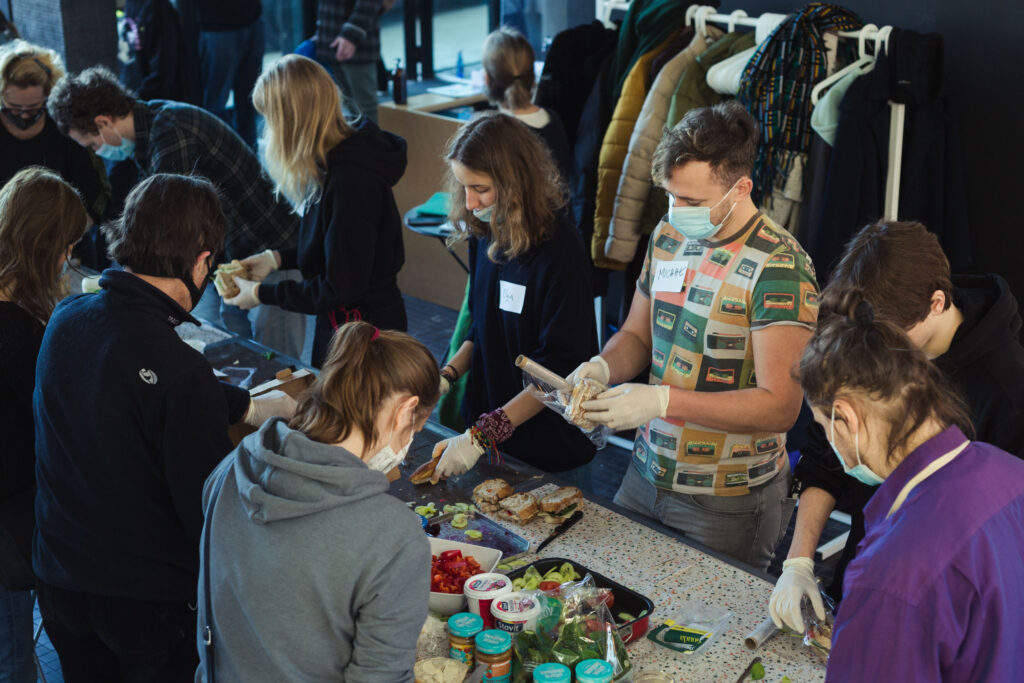 What are the biggest challenges that your initiative faces?
The biggest challenge is sustainability. How to keep going? How to make the "Sunflower" flourish in the long run? How to find funding for such a long-term initiative? How to maintain the interest of funding actors, audiences, participants, the institution, and the general public? How to continue the conversation on the war, Ukraine and its history, Russian imperialism, decolonization in Central and Eastern Europe, westsplaining, etc.? And how to embed in wider global debates without simplification but with mutual understanding? How to sustain energy, passion, and dedication, when the initial war adrenaline rush slowly vanishes? How to keep doing this valuable and exhausting work? How not to get bored and burned out? How not to lose track of our values and goals? Is this kind of work sustainable at all?
Can you share a moment from your work that inspired you?
There have been many inspiring moments. A good example can be the Orthodox Easter breakfast that we organized in the "Sunflower". Around two hundred people came, most of them refugees and migrants. For many of them joining us on this day was the best, if not the only, option to celebrate at least a little bit. Those couple hours of joyous conviviality, drinking tea and coffee, tasting traditional Easter delicacies, getting to know people, sharing stories, just being together, felt almost surreal in this terrible context. These are the kind of moments that make us understand that the "Sunflower" is perhaps the most meaningful thing we've ever done in our lives.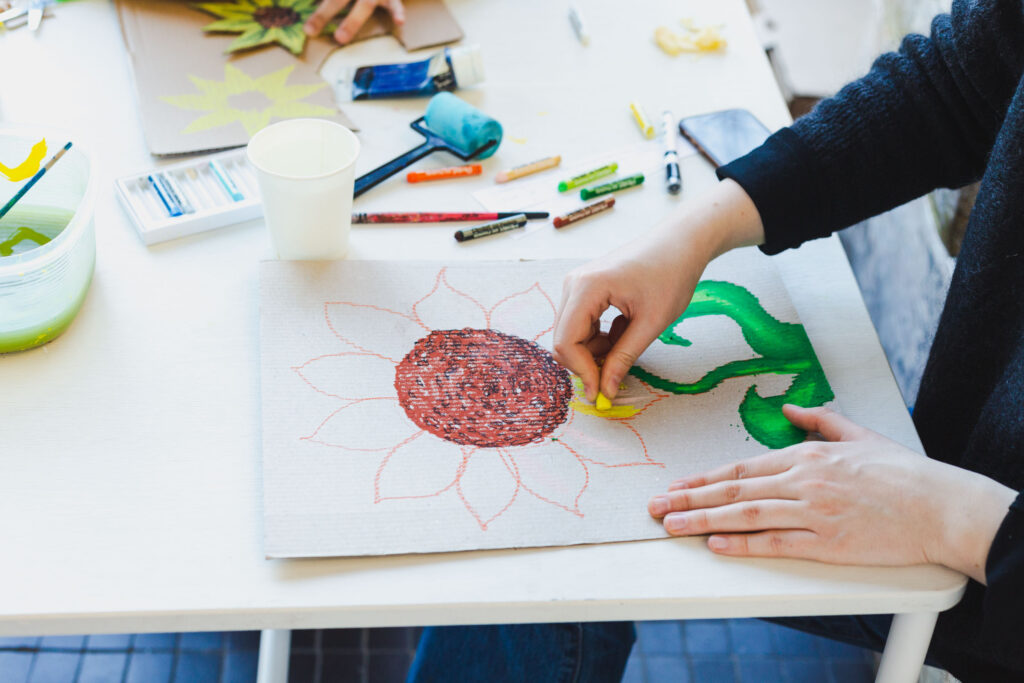 Where would you be right now if the war had never happened?
Probably we wouldn't be together – and that would be a real shame. Each of us would be going around their own business – artists doing art, cultural workers doing cultural work, curators curating, researchers doing their PhDs, etc. Each of us had to give up something (their plans, their dreams, their goals, their work) to get fully involved with the "Sunflower", but it was worth it all the way. And, to be honest, there was nothing else we could do when faced with the war.
Support SDK Slonecznik here.

Published 3 October 2022